Applying Smart Safety Measures to In-Orbit Collision Avoidance
First Posted: Jun 14, 2021 04:19 PM EDT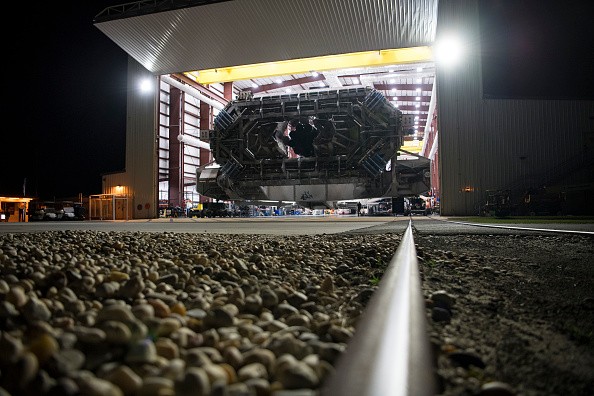 CAPE CANAVERAL, FLORIDA - APRIL 16: A SpaceX Falcon 9 rocket with the company's Crew Dragon spacecraft onboard is seen as it is rolled out of the horizontal integration facility at Launch Complex 39A as preparations continue for the Crew-2 mission, on April 16, 2021 at NASA's Kennedy Space Center in Cape Canaveral, Florida. NASA's SpaceX Crew-2 mission is the second crew rotation mission of the SpaceX Crew Dragon spacecraft and Falcon 9 rocket to the International Space Station as part of the agency's Commercial Crew Program. NASA astronauts Shane Kimbrough and Megan McArthur, ESA (European Space Agency) astronaut Thomas Pesquet, and Japan Aerospace Exploration Agency (JAXA) astronaut Akihiko Hoshide are scheduled to launch at 6:11 a.m. ET on Thursday, April 22, from Launch Complex 39A at the Kennedy Space Center. (Photo by Aubrey Gemignani/NASA via Getty Images)

(Photo : NASA / Handout)
With all the excitement generated by private companies launching satellites into space, potentially providing high-speed Internet access across the planet, few are thinking about the repercussions of the space debris left behind by those satellites, many of which no longer function. With all the junk floating around in low-Earth orbit, there is the potential for collision among spacecrafts.
The problem is not new. More than 11,000 satellites have been launched into space since the start of the space age in 1957, and only about 4,000 of these satellites still operate, according to the European Space Agency (ESA). Very few of the satellites in Earth's orbit are still functional, yet they have caused more than 28,000 debris objects floating in space, increasing the likelihood of break-ups, explosions, collisions, or anomalous events resulting in fragmentation, the ESA says.
While the number of debris objects may seem relatively small compared to the amount of space available in orbit around the Earth, orbital space is finite, and one must consider the speeds at which satellites and debris material are traveling - if there is a collision, the result of the impact would likely be complete destruction of the spacecraft and the fragmentation of additional space debris floating in space for extended periods of time.
To avoid in-orbit collisions, Ari Stiegler, managing director at Flux Capital, said countries participating in space innovation need a ground-based or satellite-based warning system superior to the existing U.S. government avoidance system - the U.S. Department of Defense's Space Surveillance Network - because the existing system has low accuracy and low capacity.
"The idea is to put optical sensors or radar sensors on satellites to find junk and other satellites across orbit," said Stiegler, whose venture capital firm has investments in multiple space companies such as SpaceX and Momentus Space.
In 1978, NASA scientist Donald Kessler articulated this concern about the future inaccessibility of space due to the accumulation of debris. The Kessler Syndrome, his theory, said the density of objects in low-Earth orbit will eventually be high enough that collisions between objects could generate debris that increases the chances of collisions, Stiegler explained.
Space Legal Issues describes the syndrome as "a self-sustaining cascading collision of space debris in low-Earth orbit."
"Adding to this challenge, there is a lack of globally comprehensive regulation over satellites launched into low-Earth orbit," Stiegler said.
Collisions between currently orbiting spacecrafts is a real possibility. Recently, a near collision between a SpaceX's Starlink satellite-which orbits at an altitude of approximately 550 km-and a satellite from rival company OneWeb, on April 2nd. While there was dispute over the accuracy of the reporting - representatives of SpaceX have denied there was a possibility of a collision - "the incident," Stiegler said, "underscores the real-world concerns over space safety."
SpaceX's Starlink satellites have automated systems for avoiding satellite collision, employing technology Stiegler believes ought to be more widespread. There is little awareness outside of SpaceX as to how effective these systems are, however.
Companies including SpaceX, OneWeb and Amazon are competing for the valuable real estate in lower-Earth orbit, launching satellites into orbit with the goal of beaming broadband Internet access to rural areas, including those currently lacking high-speed access.
To date, SpaceX has launched more than 1,300 Starlink satellites into orbit, while OneWeb has launched nearly 150 satellites.
"While this is an admirable and potentially game-changing mission, we have a responsibility to make sure it is done with respect for orbital safety," Stiegler said. "If we want to work toward the goal of avoiding collisions, devoting additional resources to developing censors capable of detecting space debris is essential."
See Now: NASA's Juno Spacecraft's Rendezvous With Jupiter's Mammoth Cyclone
©2017 ScienceWorldReport.com All rights reserved. Do not reproduce without permission. The window to the world of
science news
.