How Has the Pandemic Affected Your Business?
First Posted: Mar 31, 2021 10:16 AM EDT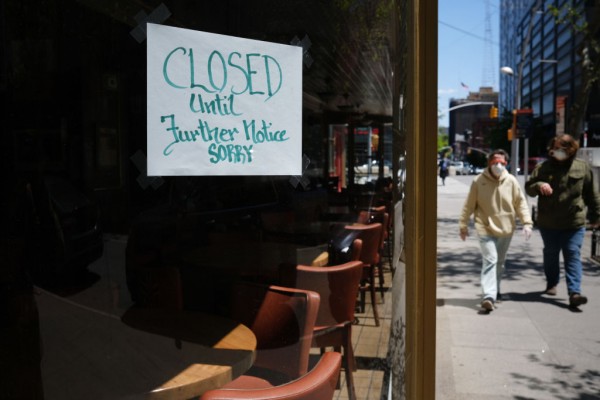 Nobody could have expected the events of 2020 to unfold as they did, but businesses had very different responses to the pandemic and its various repercussions across the economy.
Some failed, others succeeded, but 2020 certainly shined a light on the internal strength and abilities of business leaders to pivot and adjust to uncertain times.
Eager to hear how business leaders have handled the situation thus far, we asked for their opinions and received some interesting responses.
Silver Linings
It's easy to get trapped in the cycle of uncertainty during a global event like this, but top business people know that persistence is always the ticket to success.
Times might be tough now, but that's never a reason to step on the brakes or give up.
"The pandemic caused many businesses to have to rethink their business models to stay afloat," said Andrew Pires, Owner of The Maskie. "It was a difficult time for everyone, but for me it created opportunity. The Maskie was a direct response to the needs of everyone during the pandemic. Face coverings are something that people truly cannot live without and I wished to help others have a more accessible and fun mask to rock out in the public. There come opportunities out of every crisis, and taking this step was me grasping that opportunity."
Some businesses are better suited for crisis than others simply based on their products, but every company must find a way to profit regardless of the situation.
Fast Transitions
The ability to pivot a business isn't just about making decisions from the top down. Everyone within the organization needs to be on the same page so that the plan can be executed expediently and with precision.
"When the outside world seemed to shut down and everyone had to flock back indoors, it was quite a frightening thing for our business," said Chris Gadek, Head of Growth at AdQuick. "As a business that operates mostly through outdoor advertisements such as billboards, we had to find a way to pivot immediately. The most important change we made is how we reached out to potential clients. Being able to virtually sell our services to businesses saved our revenue and now as things open back up, the transition back to in-person procedures is going to be extremely uplifting. People are eager to get back outside and I see that as being a major positive for our growth in the years to come."
What good is a pivot if your business can't make it happen fast? Leaders know the importance of speed and agility when the pressure is on.
Into New Territory
People are looking for answers in a world that doesn't seem to offer much certainty at the moment. Online advertising is better than ever, presenting opportunities to connect with audiences and give them real solutions.
"The pandemic shook up our business for what could be seen for the better," said Jeffery Brown, President of Big Fig Mattress. "We were able to ramp up our online advertising and find our niche on social media platforms. YouTube advertising has become an integral part of our marketing strategy. How to direct traffic from these platforms to our website took time to adjust, but now it has made our outreach stronger than ever."
Now is when businesses of all sizes can step up and provide some much-needed assurance to customers - they're all online and ready to buy if given the right information and tools.
Lessons Learned
If your business had a record-breaking 2020, consider yourself lucky, or just extremely good at your job! Regardless, there are still some lessons that you likely learned along the way so that the next year is even better than the last.
"During COVID, we have all learned some very valuable lessons when it comes to navigating the current business environment," said Travis Killian, Owner and CEO of Everlasting Comfort. "As an online retailer, the most important lesson that I've learned is that no matter how unparalleled your customer experience is, it can always be better. There is always a competitor out there - going the extra mile and providing just a little more than you are."
Could your company do better in terms of culture? Service? Innovation? The perfect business doesn't exist, and there's always room for improvement.
Customer Connection
The pandemic may have changed the way we do business, but customers in 2020 still spent a lot of money on items that they deemed essential and necessary in their own right.
Companies that really tuned into customer needs were the ones that earned new business and fortified a loyal following like never before.
"When we realized that we were in the middle of a full-blown pandemic, we instantly understood that our priority was ensuring that we could still supply the right solutions for our customer's needs," said Heidi Robinson, COO of Because Market. "Therefore, researching our customer's buying habits became imperative, so we could use that data to compare to our current orders. Additionally, we learned to be more empathic, and offer assistance whenever and wherever we could."
What has your business done to improve customer satisfaction? This is the one question that every company has to answer honestly to make the most of the new normal.
Case By Case Decisions
When the news of the pandemic began to hit hard, every executive was scrambling around in search of a playbook to follow, but there was nothing of the sort to be found.
This meant that business leaders had to draw from past experience and use a bit of ingenuity to guide their companies through the darkness and into the light.
"During these often-difficult times, leaders are being faced with situations for which there are no rules, where they are forced to pivot," said Josh Stomel, Founder of Turbo Finance. "Assuredly, no one has a 'pandemic section' in their Standard Operating Procedures, or a string of remote-working tips that apply to every employee and every unique situation. We have found that leaders must make more individualized decisions. The comfort levels for each employee are different, as well as the tasks that they can quickly learn when needed, or when a pivot is required."
The perfect pandemic response doesn't exist, of course, but the companies that responded quickly and confidently to the situation were the ones that now have a major competitive edge moving forward.
Visibility Boost
Main street businesses and storefronts might be down, but they're not out. Some companies shut their doors but still managed to thrive online.
The key here is staying relevant to customers and positioning themselves as legitimate, reliable providers of great products and services, just like before.
"I believe that all retail sites and brick-and-mortar stores were forced to make major pivots during the pandemic - not only to ensure that they retained customers, but to continue to stay relevant," said Jordan Dwayne, CEO and Founder of 6 Ice. "To do this, we decided that it was more important than ever before to become as visible as possible - whether that be through sharing our insights on high-quality, digital PR or via content. Not only did this show that we were here for the long-term, but it developed trust with our current customer base. And, increased brand recognition is always a plus!"
Will brick-and-mortar make a comeback? What will it look like, and is it worthwhile? These are the million-dollar questions that we're all considering right now.
Double Down on Volume
There's no way around it - some business success is simply due to being at the right place, at the right time.
When people stay in their homes more often, they jump into things like media streaming and entertainment equipment, and companies behind those tools and services are doing quite well at the moment.
"The pandemic has been a blessing in disguise for our business as we were already focused on online sales channels," said Jay Shah, CEO of Auris. "The pandemic accelerated the growth of online sales, and this impacted us positively."
Perhaps your company isn't quite pandemic-proof, but this has led you to look into R&D for new products that appeal to customers of this day and age.
People First
So much of our existence is digital these days, it's easy to forget that behind every email account or social media profile is a real person going through their own journeys.
Companies need to remember this important fact no matter what's happening in the world, and it will pay off in terms of loyalty from workers and customers alike.
"The number one thing is to focus on employees and customers," said Bank of America CEO Brian Moynihan. "When it comes to taking care of employees, the goals should be: keep them well, keep them employed and keep them mentally healthy."
Check in with employees, send empathetic emails to customers, and do your best to connect with people during times that test us all.
Emphasis on Health
Many small companies are focused on wellness these days - mental, physical, or otherwise. During a pandemic, people want to strengthen themselves in body and mind, and your company can offer products that do just that.
"When the pandemic began, we knew right away that we would need to remind consumers that this definitely wasn't the time to ignore their health, as well as the strides that they've taken toward achieving their goals," said Dr. Amir Yazdan, Founder of GroMD. "So, with this in mind, we altered some of our strategies so that, in an empathetic and compassionate way, we recognized these uncertain times."
Health is key, but fun matters too! Entertainment, hobbies, and other time-saving services are thriving in the current marketplace.
Engagement Everywhere
Nearly every company on the planet claims to understand the importance of engagement, but the pandemic required them to actually follow through on this commitment.
How has your business been treating employees over the past several months? Is engagement up or down? These aren't easy questions to ask, but they must be answered.
"We have been so impressed with our employees during this time," said Kaz Amor, Founder of VoCe Haircare. "Remote work has really shifted how we've gone about our operations. We've really seen our employees kick it into high gear. Since we are such a small company, we've been able to communicate directly via email with each other. We've been hyper-focused on engagement with team members and clients. Although changes have been made, productivity has been great. Companies that listen and learn along with their employees are the ones that are keeping afloat during the pandemic."
Figure out some metrics for engagement and employee satisfaction. This will help your organization accommodate top talent in a remote and mobile world of work.
Audience Analysis
For anyone interested in fields like market research or customer psychology, 2020 offered a lot of amazing insights. We saw how customers reacted to various inputs and pressures from governments and communities, which undoubtedly created opportunities for profit.
"The pandemic pushed us to develop the ability to retain and expand existing customers which helped us as we weren't able to depend on a significant amount of new business," said Rishi Kulkarni, CEO and Co-Founder of Revv. "We guided our operations to look into data and find customers who we could expand, customers who we could retain, and customers who we could offer free trials for a limited time. This significantly cut our costs on lead generation in times when there were none."
Now is the time to analyze your audience in full to see what they want and how to execute.
Fortify Foundations
We learned a lot about ourselves during the events of the pandemic, and hopefully, we all came out stronger than before. The same idea should apply to your business, which may have struggled at first but gained more strength as a result.
"There is nothing more powerful than a family, company, community in tough with its own aspirations and principles," said Community Development Expert and Speaker Angela Blanchard. "Revisit the principles that will guide your decision-making as you move through this unprecedented period."
Difficult experiences are essential for growth, so always look for a way to make the best of a not-so-great situation like this one.
Service in Focus
Customers in every segment are looking for better service from their brands, and many people are willing to pay a bit extra to get it. Small companies shouldn't worry too much about competition from industry giants, because service is always a huge differentiator.
"Due to the nature of our business, selling personal protection equipment (PPE) and other similar products, the pandemic caused an increase in orders, as well as numerous questions regarding our products," said Rachel Jones, Head of PR at Hope Health Supply. "To adjust, we ensured that we kept a larger stock on the products our customers needed, and we trained our customer service team to be as valuable as possible when it came to answering questions and offering suggestions."
Listen to customers, anticipate their needs, and read reviews to see what they're really thinking - even if you don't want to hear it 100% of the time.
Outsource Wisely
Running a business is like juggling and the pandemic only made things trickier to manage. It was hard enough to juggle three neon balls, but now we're blindfolded and riding a unicycle through an unprecedented world event!
Outsourcing can help you get back to basics and focus on your critical tasks in the moment.
"As a business hoping to remain relevant in today's digital sphere, we have opted to outsource for SEO expertise," said Jeff Goodwin, Sr. Director, Performance Marketing and Ecommerce at Orgain. "A significant portion of reaching new customers and continuing to grow our business even during the pandemic results from organic ranking on search engines. Our agency helps us produce content and technically optimize our site to improve our searchability."
Not all business functions can be outsourced successfully, but you'd be surprised how much it helps in some areas - and how affordable it can be.
Major Change of Plans
Looking back to pre-pandemic life, things seem very different from today. Some companies have completely changed their approach to business, while others packed up and moved operations hundreds (or thousands) of miles away.
"During the pandemic, we were operating our Digital Agency in New Jersey, and like many, we were scattered working from home and feeling disconnected and unsure of how things would pan out for us," said Daniel Snow, CEO and Co-Founder of The Snow Agency. "But we turned that into a positive and chose to seize the opportunity. I've relocated, and we're opening a new office in Miami. Between the fantastic weather, tax incentives, progressive leadership, we're excited. I feel Miami will be the next tech hub. We've kept our home office, but there's an overall feeling of hope and expansiveness that mirrors the growth marketing we provide for our clients."
Maybe your company needs to find a new home, or clean house and hire new people to mark a fresh start. Whatever it takes to succeed, don't hesitate to execute on big, bold plans.
Facilitate Teamwork
Common business wisdom always stresses the importance of communication, but the new business environment has put an extra emphasis on this aspect of operations. Communication isn't just a nice idea any longer - it's vital to success.
"The transition hasn't been easy, but we have a strong, unflappable team that makes it work every day," said Ashley Troutman, Senior Director of Brand Management at Mother Dirt. "We are communicating via Slack and transitioned to Google Meet for meetings. We are thriving in this new normal that every business is being forced to adapt to. We communicate via Slack and Google Meet. We also have an All-hands meeting every Friday."
How can you make your teams' communication more effective and efficient? Technology can help, but policy and practice will ultimately determine key outcomes.
Business as Usual
It's weird to consider, but many online businesses are operating just as if the pandemic had never taken place! They can't ignore such a major world event, of course, and obstacles definitely appeared on the path, but their lean operations are highly resilient to economic disruption.
"Our products have only ever been sold online through our website, and there are always plenty of ways to advertise digitally," said Ming Zhao, CEO of Proven Skincare. "So essentially, the pandemic has not affected our business. People are always looking for skincare as well, sometimes even more so during the pandemic due to stress. All of that being said, since our business has only existed for a few years, we are still constantly thinking of ways to promote our business."
As we distance ourselves from the events of 2020 and the effects of the pandemic, we can't forget the lessons we learned and the challenges we overcame. Remember these insights from business leaders to stay focused and prepared for what comes next!
See Now: NASA's Juno Spacecraft's Rendezvous With Jupiter's Mammoth Cyclone
©2017 ScienceWorldReport.com All rights reserved. Do not reproduce without permission. The window to the world of
science news
.