How the Co-Founder of Zicam is Using Proprietary Drug-Delivery Technology to Promote Preventative Wellness
First Posted: Jun 10, 2021 03:05 PM EDT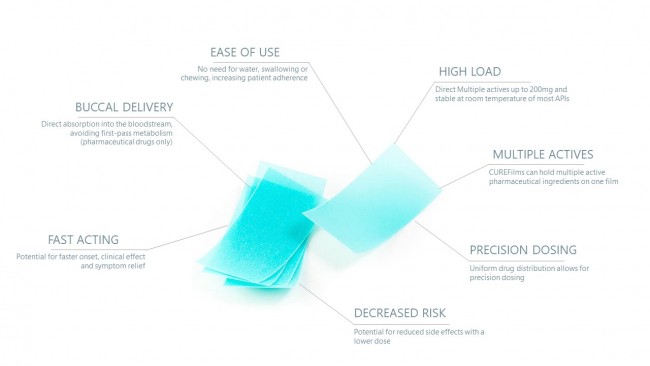 (Photo : How the Co-Founder of Zicam is Using Proprietary Drug-Delivery Technology to Promote Preventative Wellness)
The cost of healthcare is increasing for average Americans, leading many to invest in preventative health measures that support general wellness and help to minimize potential health issues before they become costly concerns. The recent COVID outbreak only solidified the need to maintain a healthy system that is able to fight off illness in the face of extraordinary threats.
Recognizing this need, CURE Pharmaceutical and its CEO Rob Davidson are working to impact the preventative wellness industry with its proprietary delivery system for active ingredients, making preventative medicine more effective, affordable, and available for consumers worldwide.
Why Preventative Medicine?
Medicine shouldn't be reactionary, addressing the symptoms of a health issue only once they arise. Instead, healthcare should be preventative: promoting healthy lifestyles, giving the body what it needs to thrive, and warding off health conditions before they become an issue.
"Health needs to have a holistic approach, and there is a need for both health maintenance and treatment. It is our mission and goal at CURE Pharmaceutical to inform and help the public have access to both components," Davidson reveals about his company.
Preventative medicine includes early detection, management of chronic disease indicators, adequate supplementation of the body's nutritional needs, and the use of targeted ingredients for effective prevention and increased wellness.
A Growing Preventative Wellness Market
"I think patients and consumers have taken health into their own hands during the pandemic", says Davidson. "I'm excited about the resurgence of wellness overall. It has been well documented during the pandemic that vitamin D, Melatonin, zinc and quercetin have been extremely effective in minimizing the severity of the virus. This brings wellness and preventative medicine to the forefront of healthcare."
Multiple industry analysts predict preventative medicine will approach $500 billion by the end of the decade, possibly much sooner. This growth is expected to be driven by innovative technologies that make preventative medicine more accessible and effective, by concern around new and existing health threats, and by consumer trends towards smarter health choices. Both younger and aging consumers are leading the demand for preventative health products to increase quality of life and avoid surging medical costs.
A Career Reinventing Wellness
Rob has been working in preventative medicine since the 1990s, when he was a co-founder of Zicam, an over-the-counter homeopathic product for cold and flu season. Throughout the next two decades, he would go on to work with several prominent brands and companies in creating new drug delivery systems.
Then in 2011, Davidson co-founded CURE Pharmaceutical after a trip to Africa demonstrated the need for a drug delivery system that didn't need to be taken with water. In regions of the world where clean water is scarce, an alternative to pills is necessary to safely ensure access to healing drugs.
Davidson's experience would lead to the creation of the company's oral thin film technology. This innovation makes drug delivery cost-effective, removes the need for water, and is easy to ship and store.
While potentially important for disease treatment, this delivery system can also be used in preventative medicine to deliver nutrients and other beneficial active ingredients quickly and efficiently into the body for use by its systems.
The Right Formulas Delivered the Right Way
CURE Pharmaceutical had consumers (and patients) in mind when developing its patented drug delivery platform, CUREform, which pairs the right dosage form with the ideal formulation for optimal absorption of active ingredients.
"Delivering active ingredients in a pill is an antiquated approach," Davidson says of the traditional form for medicine. "We want people to understand that not all dose forms are created equal. Oral thin films have the ability to deliver medications more effectively into the body by potentially bypassing the first-pass degradation and getting better bioavailability of the drug. This may allow the use of less active ingredients and create a safer therapeutic index."
The CUREform platform includes the company's oral dissolvable film, CUREfilm, an oral thin film formulation that makes medications easier to take and more efficacious, with improved tolerability and fewer side effects.
"The oral thin film allows for easier shipment (logistics) and the ability to take medication without water. The future for oral thin films may be to replace some injectables, including vaccines. It is still a nascent technology, and there are a lot of green fields ahead," Davidson says.
The CUREform platform includes CUREdrops, water-based formulas that stabilize oil-based and water-soluble ingredients for increased bioavailability; CUREpods, a novel chewable delivery system; and CUREcream, a topical solution.
CURE and Sera Labs Deliver Everyday Wellness
Part of CURE Pharmaceutical's approach to preventative medicine comes through its wholly-owned subsidiary Sera Labs. Along with anti-aging skincare and everyday wellness products, the company's Nutri-Strips brand takes advantage of the CUREfilm technology to impact everyday health with support for sleep, immunity, energy, and recovery.
Better everyday wellness is the cornerstone of preventative medicine. Rob and CURE Pharmaceutical are on the forefront, making sure wellness is within the reach of consumers and helping to protect the health of people everywhere.
See Now: NASA's Juno Spacecraft's Rendezvous With Jupiter's Mammoth Cyclone
©2017 ScienceWorldReport.com All rights reserved. Do not reproduce without permission. The window to the world of
science news
.