Chromatography Technology Company Partners With Pharma Company to Increase Production of Coronavirus Treatment
First Posted: Feb 17, 2021 03:16 PM EST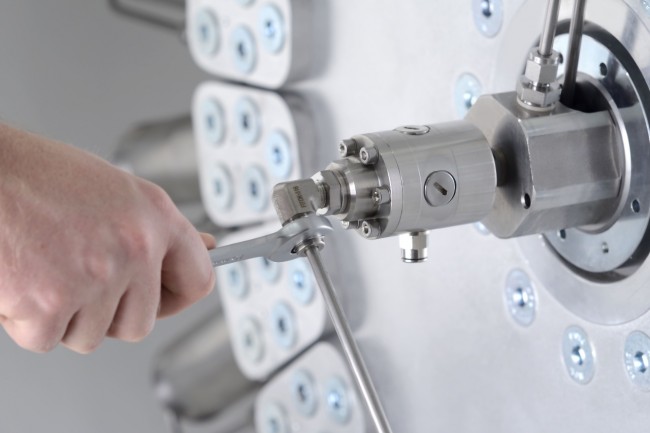 (Photo : Chromatography Technology Company Partners With Pharma Company to Increase Production of Coronavirus Treatment)
RotaChrom Technologies, which developed the world's first industrial-scale centrifugal chromatography technology platform, has partnered with Cyclolab in order to integrate their technologies to increase the production of Remdesivir, a potential treatment for coronavirus. Cyclolab coins itself as a cyclodextrin research, development and manufacturing company. According to their announcement, the aim of the partnership between the two companies is to develop a more technologically and economically efficient process for purifying the active ingredient found in Remdesivir. They believe this could mean significant cost savings for the pharmaceutical industry in the fight against coronavirus.
Remdesivir is an inherited substance-dependent RNA polymerase inhibitor, the first antiviral agent approved in the EU to treat COVID-19. It was originally developed to treat the Ebola virus, but as a result of last year's pandemic, research began on its efficacy in reducing symptoms associated with COVID-19. It has been shown to be effective in clinical trials in hospitalized patients with severe symptoms, which led to the active substance having been approved and used in the European Union.
THE REMDESIVIR FORMULATION CONTAINS 3% OF THE ACTIVE INGREDIENT AND 97% OF THE CYCLODEXTRIN DERIVATIVE AS AN EXCIPIENT.
The partnership leverages RotaChrom's unique drug purification process with decades of experience at Cyclolab in cyclodextrin research. The CPC platform developed by RotaChrom, known as the rCPC (research-scale Centrifugal Partition Chromatography), has the ability to separate active ingredients using liquid-liquid chromatography. When compared to traditional chromatography methods, the platform offers a more efficient and faster solution for the production and purification of target compounds, which can mean a significant cost savings for pharmaceutical companies doing research on potential and proven active pharmaceutical ingredients.
"While some in the United States are starting to receive the COVID-19 vaccines, there are still many more who are already infected and suffering from this terrible virus," said RotaChrom's North America President Gyula Kangiszer. "Remdesivir is an FDA approved drug that has the ability to treat those who are already sick, and by enhancing production we could potentially save lives. We are proud to do our part to combat the pandemic by combining our company's technologies with Cyclolab and creating this strategic partnership."
Cyclolab has been researching, manufacturing and modifying cyclodextrins since 1970, bringing analytical, formulation and chemical expertise to all of its work. Beyond its goals in researching purification of Remdesivir, the two companies hope to explore other potential synergies in its various programs, where cost savings could lead to further pharmaceutical breakthroughs.
Tamás Sohajda, the CEO of Cyclolab, added that: "This strategic collaboration is a tremendous opportunity to create novel discoveries leading to significant added value through pharmaceutical therapies. While there are a handful of published examples on the marriage of these two techniques, no one has ever attempted to bring it to the industrial level. This is our goal now, and what can be a better compound to start with than the one that is critically needed in millions of doses? If we could make even a small impact on better availability - either logistically or economically - we would consider it as a huge success and a beginning of a new era in preparative chromatography."
See Now: NASA's Juno Spacecraft's Rendezvous With Jupiter's Mammoth Cyclone
©2017 ScienceWorldReport.com All rights reserved. Do not reproduce without permission. The window to the world of
science news
.